About Fly Hangar 13
Heath Voss, owner & pilot of Fly Hangar 13 LLC
Heath, a native of Minnesota, relocated to the Texas Hill Country in 2000 in search of warmer weather.  At the time, Heath was in his 7th year of racing Motocross & Supercross professionally and often piloted his Bonanza airplane himself around the United States for his racing.   In 2004, he won the THQ World Supercross Championship aboard his Yamaha YZ450F.
In 2010, he retired from racing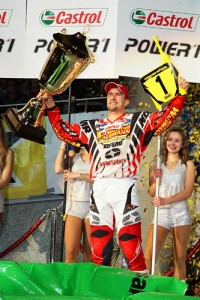 professionally for 16 years, and concentrated full time on building his aviation business, Fly Hangar 13.    Over the past 13 years, Fly Hangar 13 has grown from a hobby to a helicopter company that specializes in the following:
– Charter Flights & Tours
– Aerial Applications for Crops & Forestry
– Aerial Predator Control – Hog Hunting
– Game & Pipeline Surveys
– Certified Robinson Helicopter Company Maintenance Facility
(R22, R44, & R66 Certified)
Fly Hangar 13 operates a EC130 (6 passengers plus pilot),  Bell Jet Ranger 206B (3 passengers plus pilot) and a Bell 407GX (5 passengers plus pilot).  We also operate an executive ship Bell 407 GX for Charter work under FAA part 135.  We are available for all your helicopter needs whether it be private flights or group rides for corporate events.
Please contact Heath or Sarah for all of your helicopter needs – [email protected]