Every hunter says it's the greatest thing they've ever done.
Join the thrill of Hunting from the air while helping to control the predators. Helicopter hog hunts in Texas.
Aircraft:   Bell 407 – Trips starting at $3,350 per flight hour, with a minimum flight time of 3 hour and includes up to 4 gunners.
Pricing Includes:
Bell 407 Helicopter
Professional Pilot
Safety Instruction
Available for additional fees:
Fire Arm Rental
Ammunition
Lodging Accommodations
Transportation
Meals
Is your party larger than 3 or 4? We can accommodate any number of gunners with gunners rotating out through out the hunt.   Min. of 3 hours/group of gunners for larger parties.
Please allow an extra day in your schedule incase of in climate weather as we are not able to hunt or fly in in climate weather and our schedule will allow some flexibility for weather.
Prime Aerial Hunting Season is February – early June.  Hunts are available year round during the week, please contact us with your preferred dates.
All inclusive Hunt packages available which include all transportation, overnight accommodations in Texas Hill Country, fire arms and ammunition, and more. Please email for package options.
We have over 30,000 + acres for predator control within 70 miles of downtown San Antonio.  Gunners can use Assault Rifle or Shotgun. Typical hunt is 4-5 hours with multiple hogs shot, and on occasion a few coyotes or a bobcat.  The price is per flight hour.  

Area Lodging
Lodging Within 10 miles of FH13
Sunset Ranch
We (Fly Hangar 13) offer 2 Log Cabins and a larger 5 bedroom Ranch House for rent just on the west side of Medina Lake!  Enjoy beautiful sunsets with a large area to hike or relax before and after your hunt!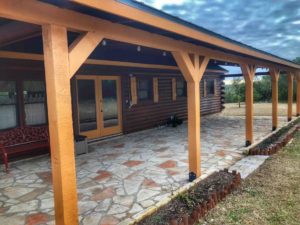 Paradise Canyon – Medina Lake
Accommodations from rustic hunting cabins to a full service lodge that can accommodate up to 15 people.
Bullwinkles Lake Cabins – Medina Lake
Individual cabins or house
Cowboy Capital of the World, Bandera Texas
(about 20 miles NW of FH13)
San Antonio Area Highlights
La Cantera Area
Boerne, Texas